HOME >> Decals
Flair Puppeteer Scale Decal Set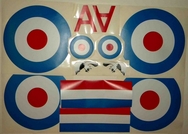 enlarge image

High quality scale decal set made for the Flair Puppeteer.

Set includes Eagle insignia, 4 Wing roundels 280 mm diameter.

2 Fuselage roundels 100 mm diameter and tri-colour for the rudder

and a large letter "A". We can supply a set for an 1/8th scale, made to order.