HOME >> Retracts
Spitfire Servoless Retract Pack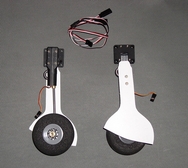 enlarge image

The Mk9 Spitfire Retract pack features servoless electrical retract units that can be installed in minutes with just four screws. The units themselves have metal trunions and twin grub screws to ensure durability.

They come complete with pre-bent 4mm legs and gear doors retained with brass fixings. A Futaba style Y lead is included so that you can simply plug the lead straight into your receiver.

Lightweight main wheels are included. Installation has never been easier. Plug them in, screw them to the model and flip the switch!