HOME >> Engines and exhausts
90 degree Warbird Replicas custom manifold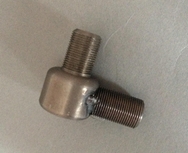 enlarge image

Through extensive research and testing of off the shelf units we finally came to the conclusion the only way to truly get a solution that works reliably, was to manufacture one ourselves!

To suit a .52-.61 four stroke installation where the exhaust is required to be contained within the cowl, this tough little 90 degree manifold replaces your standard 'banana" manifold in order to tuck the exhaust in tight to the motor.

At £13.95 these useful little items offer outstanding value and will outlast most engines.