.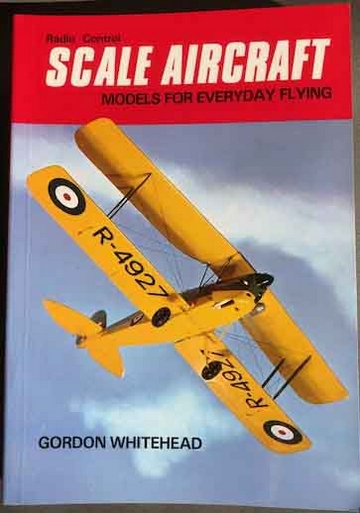 Radio Control Scale Aircraft Models for Everyday Flying .
By Gordon Whitehead . £34.95 + £4 post in the UK .
We have a small stock of BRAND NEW books , sealed in plastic. These are very
rare and sought after books. A typical price for one of these is between £40
and £60 !! And that is for a used but "acceptable condition version ".
The book itself is astonishing . For any traditional builder , this book
really is "the bible" . There are sketches and layouts all through the book
with novel ideas for making your own designs from scratch. Even showing how
to make cowls and canopies without specialist equipment .Unlike some books, 
it speaks to you in a very common sense kind of way ,which simplifies and
encourages you to build and design , rather than make things appear so
complicated as to be impossible . 
The book also covers flight trimming , first flights and difficult behaviour.
I can honestly say that I must have read my copy a dozen times and always
use it for a reminder if I run into a problem . 
We have always had enquires for this book form all over the world , so now
that we have acquired a small stock , I expect them to go quickly . 
If you are overseas , you will need to ask us about postage . 
Richard Wills
Warbirds Replicas.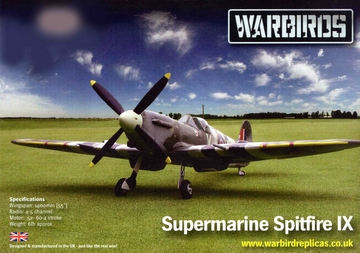 The latest version, our new MkIX represents the pinnacle of our fifteen years experience on this size model. The model was designed straight from accurate drawings of the full size reduced to 1/8 scale with one or two clever aerodynamic modifications to make the model a practical everyday flyer.

Jig tabbed fuselage means that your Spitfire appears before your eyes in a matter of hours. Take a good look at the pictures, and you have to concede that there is not a better looking Spitfire kit on the market.

Theres now no longer the need to settle for one of the many poor far eastern offerings of .40 size Spitfires that exist, you now have the opportunity to build and fly a true representation of this iconic British fighter. So why not be the envy of your club, join the ranks of Johnny Johnson and Al Deere and take your own MkIX Spitfire into combat?

Construction is quick and easy, the kit includes cowl, canopy & scoops, exhaust stacks, fuel tank, tailwheel, step-by-step fully illustrated instructions and plan, CNC plywood parts and hand picked laser-cut balsa.


Specifications
Wingspan: 1400mm [55"]
Radio: 4-5 channel
Motor: .52 4-stroke or equivalent electric setup
Weight: 5.5-6lb approx.

Optional extras
Decal set
3D Printed Scale Exhausts
Pilot & cockpit set


News from warbirds
News update from Warbirds .
Mustang Back in Stock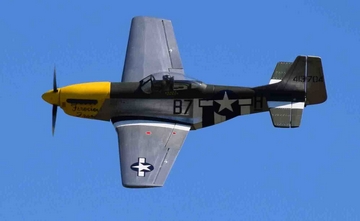 ...........................................................
New!! Brushless Motor for the Warbirds Spitfire.
In order to save you experimenting , we have done all the hard work in advance.
The new WARBIRDS Spitfire kit has been designed around this motor's dimensions, so it will fit right in with just four screws.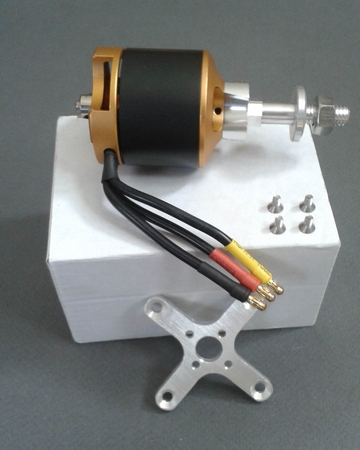 All this for a price that is half of some motors at just £33.99 Check it out in the Brushless Electric Motors section of our Online shop.