Bf109G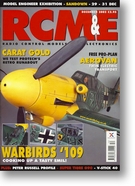 Back in December 02 RCME featured the Warbird Replicas 109G, not only was the kit extremely well received, but Kevin Acres beautifully painted model also made the front cover!



To download the full review, go to the 109 in the kits section where you can download the full review as a pdf.



As this is one of our older designs, it does demand a little more from the builder and we wouldnt recommend it as your first Warbird Replicas kit, however seasoned builders will have no problems.

Although the construction is not as quick as our recent releases, the prize is a sport scale Bf109 that is truly rewarding, with some of the best flying qualities of any of our models.

Isnt it about time you gave the Spit something to think about down your local club strip!!