HOME >> Ballast weights
Nose weight - 3.5oz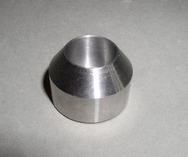 enlarge image
Almost all models of WWII fighters struggle to keep the centre of gravity in the right position.
The reason is obvious. Our lightweight single cylinder engines are nothing like a miniature merlin or daimler benz in terms of comparative weight, hence given that our models are of the same proportion as the full size, we will naturally have a problem getting the balance correct (especially if you get a bit carried away on the paint!)
To redress the balance if tail heavy we need to add balast as far forward as possible since the centre of gravity is relatively close the front of the aircraft.
The spinner is the most forward point of the aircraft, so we have created a special 'dog bowl" washer that replaces the standard washer provided with an OS/SC/ASP .52-.61. The washer adds weight securely at the most effective point. Typically it will move the CofG forward by 10-13mm.
The actual weight of the washer is only 3.5oz, and in our experience there are no detrimental effects on the motor, indeed the extra flywheel effect can improve tickover.