HOME >> Pilot + cockpit kits
Spitfire Cockpit Kit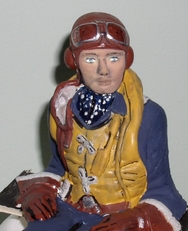 enlarge image

No self respecting warbird should ever be seen with an empty office, do your scale masterpiece some justice and fill the drivers seat!

Cockpit kit includes 1/8 scale highly detailed British WWII pilot figure [unpainted], part leg mouldings to fit pilot figure and an instrument panel decal.

This chap comes unpainted so take a few moments out to read through our section on pilot painting and give it a try, you might even find it an enjoyable experience!