HOME >> Engines and exhausts >> 4 stroke engines
Warbirds custom in-cowl silencer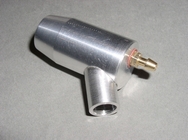 enlarge image
Our own design in-cowl silencers are intended to replace the standard exhaust for OS, SC, ASP and Magnum 52-61 fourstrokes.

The clever design features a side mounted exit nozzle enabling the exhaust to be routed inside the cowl with the minimum disruption to scale outline. The exhaust works in conjunction with the manufacturers standard 'banana" manifold.

For an even tighter cowl installation the machined knuckle style manifold can be employed.