HOME >> Brushless Electric Motor
Brushless Electric Motor for the Warbirds Spitfire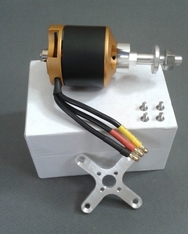 enlarge image
In order to save you experimenting , we have done all the hard work in advance.
" New gold version of the Spitfire motor that offers a longerprop shaft in order to accommodate the thicker hub typical of large scalepropellers ".
This powerful brushless outrunner has enough torque to turn those big three and four blade propellers. On just a 4s battery pack it will provide the kind of power you would have expected from an OS52 fourstroke but with none of the mess!
The new WARBIRDS Spitfire kit has been designed around this motor's dimensions, so it will fit right in with just four screws.
Typical propellers on 4S are 14x8 three and four blade , 15x8 or 14x9 three blade .
All this for a price that is half of some motors at just £33.99