HOME >> Air Whistle
Air Whistle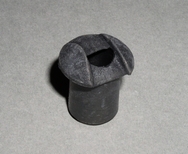 enlarge image


Suitable for all Warbird Replicas and ARTF models.

We are constantly striving to achieve a more a realistic flight. The four stroke motor has gone some way to improving the overall effect by providing us with a deeper exhaust note.

We have taken taken the sound effect to another level by introducing a small whistle, that when fitted in the wing or fuselage operates within the air flow our models create. The full size warbirds often have a distinctive whistle generated by the supercharger and it is this sound that we have tried to emulate.

The overall effect definitely adds a little more wow factor to an already outstanding model fighter.

Obviously you must be considerate of local noise sensitive areas in some clubs, but it is worth pointing out that our fully cowled models with relatively small engines are not likely to be the noisiest model in the club with or without a whistle!

If buying from outside of Europe, Please order more than One as it's not economical for us to post just one.